Event Description
Home Design and Remodeling Show Fort Lauderdale
Broward Convention Center Address: 1950 Eisenhower Blvd, Ft Lauderdale, Florida 33316
Broward Convention Center is the host each year for the Home Design and Remodeling Show Fort Lauderdale and has been sold out in the past years.  The Home Design and Remodeling Show is the only place for professional vendors for the home to interact with home owners. The Home Design and Remodeling Show has been bringing the most successful Home Shows to South Florida for over 40 years. The shows brings together vendors offering superior products and services for homeowners looking to renovate, decorate, or simply enhance the appearance of their homes.
Tickets are $10 per person
Friday 4 PM to 9:30 PM
Saturday 12 PM to 9: 30 PM
Sunday 12 PM to 9: 30 PM
Monday 12 PM to 7:30
Organizers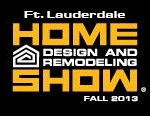 Home Design & Remodeling Show
1950 Eisenhower Blvd, Ft Lauderdale, Florida 33316
info@homeshows.net
About the Organizers
The Home Design and Remodeling Shows capture the flavor of South Florida as only a professional, local Home Show producer can do... featuring international products, services specific to the needs of South Florida homes, trend-setting home designs, and a diversity of displays unseen in shows around the country.
How to Register?
Tel: 305.667.9299
Fax: 305.667.3266
Toll Free: (888) 353-EXPO
Visited 9058 times, 1 Visit today